So in the book, you'll find patterns, including the ones shown in the photos here, for hats, scarves, shawls, gloves, mittens, baby items, even a few bigger garments like a halter and a vest. I tried to use all different kinds of sock yarns in the book, including handdyed and machine-dyed; solid, semi-solid and multicolor; self-patterning and self-striping; and a sampling of different companies and fiber blends. I was really lucky to get some terrific designer friends to help, too, people like Franklin Habit, Véronik Avery, Wendy D. Johnson, Brooke Nico, and Melissa Morgan-Oakes. ~ Carol J. Sulcoski
I was so thrilled to receive a review copy of Carol J. Sulcoski's new book, Sock Yarn Studio.  This book has been on my list to buy since I hear it was coming out this year and I am so happy to be able to share my review with you today.
H
andpainted sock yarn is quite a favorite among knitters, especially those who love to knit socks and shawls.  The colors are fantastic, alluring and quite addictive, so much so that many of us have grown our stash of handpainted fingering weight yarn to the point that we don't really know what to knit with our treasured collection.  So, what do we do with all that accumulated goodness?  Why knit of course, but not necessarily socks, or even shawls.  What knitters need is a few creative alternatives and Carol Sulcoski has given us just that!
Carol has broken down her book into three chapters that provide a mix of one-skein, two-skein an multi-skein projects that feature designs that she herself has created, along with the likes of  Wendy Johnson, Veronik Avery, Franklin Habit, Melissa Morgan Oakes, Barbara Brown and more.  This book provides over 20 projects that include, shawls, socks, mitts, hats, scarves an even home decor.  There is also a chapter covering the basics, including a guide to various types of sock yarn, an exploration of repeats, how to  how to avoid pooling, yarn substitutions, swatching and tips.
Here's a few things you'll find inside, along with pattern links to Ravelry:
There are so many fun an creative designs in this book, but I have to admit that my favorite project is the Fortunate Cowl designed by Melissa Morgan Oakes.
For knit alongs, pattern support and general questions,   Carol has started a Ravelry group, Sock Yarn Studio.  So, be sure to visit and join the knitting fun!  You can learn more about this book and Carol by visiting the Lark Crafts Blog.
_________________________________________________________________________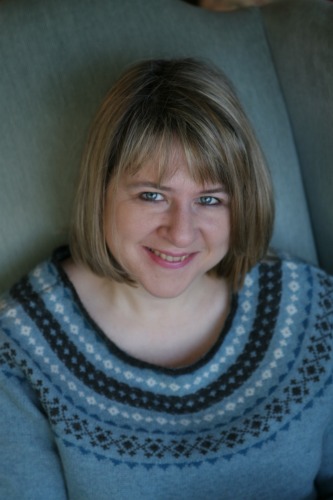 About:  Carol J. Sulcoski is a former attorney turned knitting designer and handdyer. She is the author of Knitting Socks with Handpainted Yarns and co-author of Knit So Fine (both published by Interweave Press).  Her designs have been published in Vogue Knitting, KnitSimple, St-Denis Magazine, KnitScene, and various other books and magazines, and her technical articles frequently appear in Vogue Knitting.
She also founded Black Bunny Fibers, an independent dyeing business, creating unique hand-painted yarns and fibers, and her patterns can be found on Ravelry and Patternfish. She lives outside Philadelphia, PA, with her family.
You can find Carol online at her blog, Go Knit In Your Hat, Twitter, Black Bunny Fibers, Ravelry and FaceBook.
________________________________________________________________
I am happy to announce that I will be giving my review copy that Lark Crafts has sent me  to one lucky blog reader.  To enter this giveaway, simply leave a comment, and do be sure to leave a means of contact if your email does not automatically attach to your comment, for example your Ravelry ID.  For an extra chance to win, follow me on Twitter, tweet the giveaway and come back to enter to let me know.
The  Deadline to enter is Wednesday, October 3rd  at 5:30 p.m. Arizona Time.  The winner will be selected by a  random number generator and will be announced on Thursday, October 5th .   Please note that the winner will receive their book directly from me and that this giveaway is open only to US and Canadian Residents.
Disclaimer:  This copy has been sent to me by Lark Crafts for review.   Please note that the  above opinions are my own.
This giveaway is now closed ~ thank you for entering!